Our commitment is to present you with a property and inform you of its real situation.
We support you throughout the whole buying and selling process to give you peace of mind during the transaction.
Buying or selling a home is one of the most important and decisive events in your life.
That is why we make sure that people like you feel supported.
Are you in one of these situations?
Your family has changed, and you need a different house
If you live outside of Mallorca and aknfter all your hard work, you feel you deserve to have your own place on the island and enjoy our wonderful climate.
You have decided to put your flat or house on the market and need a valuation and legal advice.
Your company wants to invest in real estate in Mallorca.
In each of these situations we find a guaranteed solution, and if not, we will seek one for you, because we are a friendly team with extensive experience in the real estate sector in Mallorca.
Mogo Homes was born out of the need to create our own company with a relaxed family atmosphere.
We founded our agency in 2017 with the aim of supporting local and foreign clients in the purchase of a property in Mallorca to suit their needs and possibilities.
We also aim to make life easier for owners selling a property by providing a complete and reliable service without extra lawyer's fees.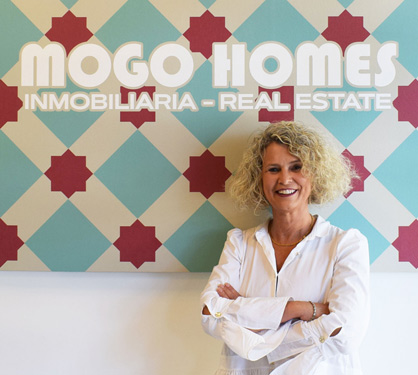 My name is Amanda Morey Richardson, and I apply Spanish law to purchase/sale transactions to ensure your peace of mind.
I am a law graduateof English and Mallorcan origin, with 15 years experience in the legal profession, combined with my family construction business for several generations.
This has led me to build up international client loyalty since the days of our family business.
I enjoy using my knowledge and experience in real estate brokerage, where I have found my vocation.
My greatest satisfaction is to see our clients happy in their new home.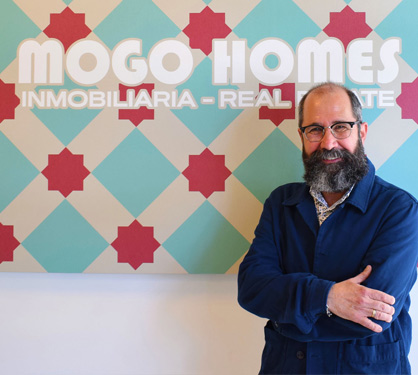 My name is Ernesto Göhringer Barrenechea. I have a very clear and precise personality because I am all about Architecture and Valuations of your property. I have spent my entire professional life in the real estate sector.
As regional head of a well-known valuation company for 25 years, my job is to guarantee you a good purchase.
My greatest satisfaction is to understand what the client is looking for and when I find it, to help with my knowledge and technical management.
I am passionate about the dog world and dogs are also very welcome in our office.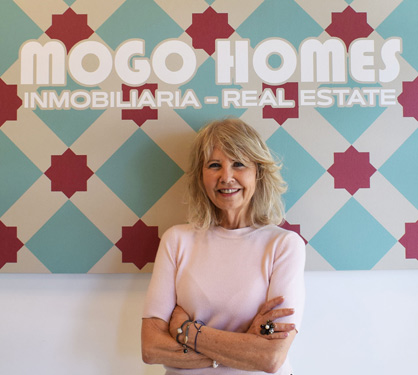 I am Liz Dickinson, a graduate of Leeds University and I was born in England. When I moved to Mallorca, I held senior management positions in the Tourism sector with a particular emphasis on contract negotiation.
When buying a property in Mallorca, I can help you to patiently search for the ideal home and then reconcile the two parties in the buying and selling process.
I have completed real estate courses, becoming, over the last 6 years a respected real estate expert in Mallorca, specializing in village houses and fincas
My dedication has resulted in delighted buyers and satisfied sellers, a win-win situation for all, so I am the ideal person to help you through those delicate moments of negotiation.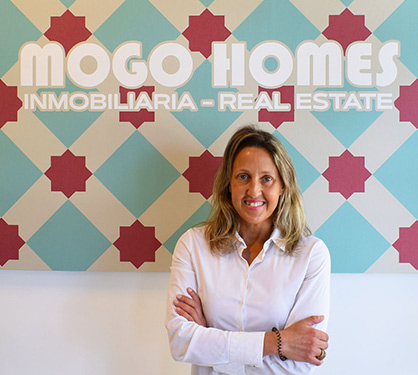 I am María Maresca Camps and thanks to my studies in Tourism at the School of Hotel Management at the UIB, my area of expertise is Customer Service. My experience in an important insurance company introduced me to sales.
At Mogo Homes I am responsible for rental intermediation.
I relate to you as soon as you meet me. I simply love to thoughtfully "match" tenants with landlords.
I enjoy my job because of the good atmosphere and teamwork.
Respect, friendliness and passion to help with sincerity, is our day- to -day service
At Mogo Homes we all have an extensive local and international NETWORK, as we are a team of veterans in the sector
Therefore, if we do not have the property you are looking for, we try to find it through our social and professional network
We attend you personally and directly in Spanish, English and Majorcan
If you have come this far and would like to get to know us, we will be happy to give you advise. By clicking below you will find a short contact form which you can send us with your request or enquiry.
¡We wait for you!